PC
Lenovo ThinkPad X1 Fold -from CES 2020. Quick look.
As I already said in the other article that the CES 2020 is kinda like the concept and I'm still telling you that all these products might not hit the market anytime soon or never.
In shows like CES and MWC, we have seen weird laptops like 3screens or also something like Project Linda. But they never hit the market and I'm also not sure about this Lenovo Thinkpad X1 Fold. As it's named on fold yes the laptop itself can be folded.
So let's take a quick look at Lenovo Thinkpad X1 fold from CES 2020.
After the foldable smartphones, we are ready to take a look at the foldable Laptops from Lenovo. Yes, it sounds weird "Foldable Laptops" because we can fold all laptops but this laptop lets you just collapse the screen of the laptop and put it into the pocket and start walking.
Again, sounds weird?
I am talking about Lenovo's new creation Lenovo ThinkPad X1 Fold which we just saw in CES on 6th January 2020, starting an era of mobile computing. Lenovo was teasing X1 fold in May- 2019 which is just a prototype and now Lenovo officially revealed X1 fold to the public with full product details.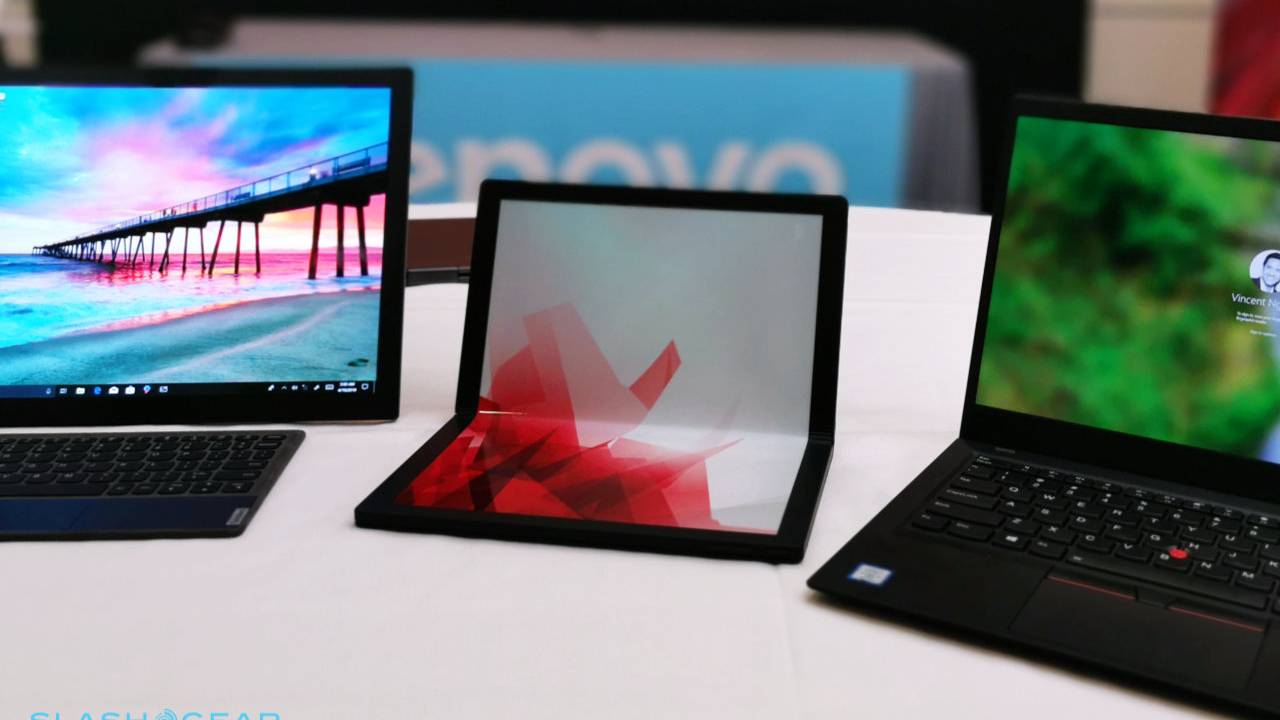 But there is a question that in which category Lenovo ThinkPad X1 fold fits, Laptop or Tablet.
Let's see it.
In ThinkPad X1 fold, Lenovo used 13.30 inches OLED foldable display at QXGA resolution of 2048 X 1536 pixels with big bezels on the side. The display of X1 fold converted into 6.2 inches wide display when we fold it, half the size of its full display. Of course, this pc takes double the thickness in close mode i.e. 1.1 inches thick which is thicker than any laptop that currently available in the market.
ThinkPad is known for its use in business professional. So, The ThinkPad X1 fold runs on windows 10 Pro with its all features, security updates but we can also get Windows 10x supports later. With little customized for such fold devices.
Intel's Lakefield processor has powered the ThinkPad X1 fold which is the best processor for such new mobile computing devices which optimize the performance of battery (up to ~ 11 hours) supports Quick charge technology.
The backside of ThinkPad X1 has covered by leather material with a hinge that used to stand the device in tablet mode.
As a foldable device, Lenovo ThinkPad X1 has two USB 3.1 Type-C ports, one on the bottom and another on the edge of the cover. There is also a SIM card slot that supports 5G networks.
The X1 Fold is full screen foldable 2-in-1 devices, so it doesn't have any attached keyboard but you can get Lenovo's Bluetooth Mini Keyboard which is specially designed for the ThinkPad X1 fold.
In the storage, The X1 comes with limited 8 GB of LPDDR4X RAM and 1 TB of PCIe NVMe SSD and It weighs around 2 pounds.
As a first foldable PC, the ThinkPad X1 fold prices starting from $2,499 and sell starting from the Mid 2020 but the Bluetooth Mini Fold Keyboard and Active pen sold separately. A Windows 10x version of ThinkPad X1 fold should arrive at the end of the year.