Phones
Everything you need to know about the new Pixel 4.
Google pixels are outstanding phones form the inception of the pixel which launched in 2016. The pixels are known for their excellent camera, speedy software, and fastest updates.
But recently Google launched its 4th model called pixel 4.
The pixel 4 is the first phone which has a dual rear camera setup, but we will always remember pixel which was dominating in phone photography with a single camera.
Pixel 4 has changed many things and, it will affect their sales and also it will not available in some countries.
As I said this pixel has changed many things let's see what are those.
Fingerprint Scanner:-The pixel 4 has removed the fingerprint scanner on the back of the phone, and I don't know why? And as google implemented soli radar chip inside the pixel for taking care of the face lock. The soli chip implemented for many other things as we will talk about this later parts of the article but you can still unlock your device even with a closed eye and I never take seriously face unlock as first security lock in any phone. And another thing you will missing that "SWAP DOWN" on the fingerprint scanner to get the notification shell.
Display:- The Pixel 4 has 90Hz display, so it will refresh your display contents 90times in a second and gives you beautiful and smoother experience but it will cost you battery life, and the pixel never is known for a good battery life phone even the pixel 4 has only 2800mAh battery which is smaller from the standard industry sizes, as mostly all phones has 4000 mAh battery these days.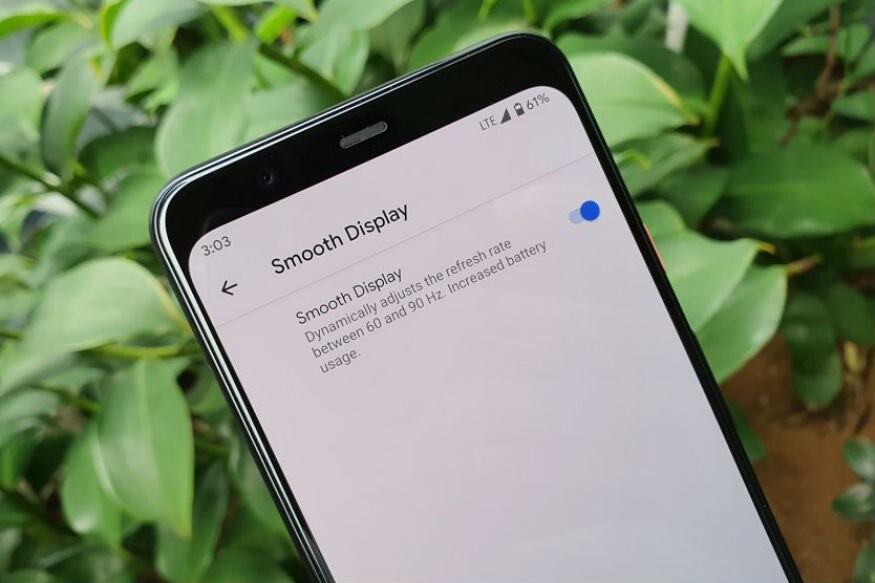 4k 60fps Video:- yes unlike other flagship phones the pixel 4 also let you shoot videos in 4k but only in 30fps. Why? You should see the tweet below for which is a very sad excuse.
But at a point, google is right about the storage issue. The 4k 60fps takes so much storage, For instance, you can only record 4K 60fps video for five minutes on the OnePlus 7T Pro due to storage issues. Modern iPhones and Samsung flagships use HEVC encoding to significantly reduce the size of 4K 60fps videos. Even Google Pixel 4 has an option to save videos in the HEVC or H.265 format. But the pixel 4 base variant comes with only 64GB onboard storage and no micro-SD, and also the free original quality unlimited cloud backup in pixel phone has been gone because of free earbuds coming in the box.
Soli chip:- Google Pixel 4v contains a small radiolocation chip within it, that permits you to swipe or wave your hand to try and do many things. Additional significantly, Motion Sense (as Google has branded it) is intended to discover your presence. It is aware of if you're there. The technology comes from Project Soli, which was initially incontestible publically in 2015 and is currently within the pixel 4 as its initial major industrial implementation. Responding to many air gestures is fairly minor, however, Google sees the potential for it to eventually become rather more.
Luckily, Google isn't claiming quite most for Motion Sense, however it will have an identical drawback. The gap between things that Motion Sense may do and what it really will during this initial version is big. In theory, swing radiolocation on a phone could be a revolution. In apply, it might be seen as simply a gimmick.
The second kind is to reach. This isn't much: the phone simply pays attention to visualize if you're reaching for it then quickly activates the screen and activates the face unlock sensors. If AN alarm or ringtone goes, the phone mechanically quiets down a small amount once it sees you're reaching for it.
Finally, there are the particular gestures, of that there are soli . You'll be able to provide it a fast wave to dismiss those calls or snooze alarms. You'll be able to additionally swipe left or right if music is taking part in to travel forward or back. There is a handful of additional specific stuff you will do, however, Google isn't gapping up gestures to third-party developers for a short while.
Lastly, the only reason is the PIXEL 4 is not going to launch in all countries even in INDIA, The main reason for the Pixel 4 not launching in India could highly be due to Project Soli. The Motion Sense radar chip used in Project Soli requires a 60GHz mmWave frequency band. The government of India has not yet opened the frequency band for commercial use.
for the full specs of the pixel 4 click here.