Hardware
DFI GHF51 a PI size Board with AMD Chip and Radeon Vega IGPU.
We all already know about Raspberry PI. It is a single-board computer with an embedded arm based microchips with on-board Ram and all other ports which we need on any computer motherboard.
Raspberry Pi's are so cool because apart from building a tiny computer, you can do lots of projects and can also do many experiments.
There are thousands on projects based on raspberry pi, like you can build your VPN servers, Building DIY NAS, Add-blockers, etc. a lot more. But there are still lots of limitations on the PI.
In 2019 Raspberry launched its PI 4 which is the most power Pi till today.
As ever, the main reason to buy the latest Raspberry Pi model is the improved system specification.
· 1.5GHz 64-bit quad-core ARM Cortex-A72 CPU (ARM v8, BCM2837)
· 1GB, 2GB, or 4GB RAM (LPDDR4)
· On-board wireless LAN (dual-band 802.11 b/g/n/ac)
· On-board Bluetooth 5.0, low-energy (BLE)
· 2x USB 3.0 ports
· 2x USB 2.0 ports
· Gigabit Ethernet
· Power-over-Ethernet (this will require a PoE HAT)
· 40-pin GPIO header
· 2× micro-HDMI ports (up to 4Kp60 supported)
· H.265 (4Kp60 decode)
· H.264 (1080p60 decode, 1080p30 encode)
· OpenGL ES, 3.0 graphics
· DSI display port
· CSI camera port
· Combined 3.5mm analog audio and composite video jack
· Micro-SD card slot
· USB-C power
You can run any Linux Distro on PI but when it comes to Windows things get hard. As windows still not optimized for ARM-Based chips so you will face lots of problems when you trying to run Windows on PI.
But it doesn't mean that you cant run Windows on the PI, there are lots of OEM like "UDOO BOLT" or "ASUS" who already built some boards for running windows.
But these are history and let us talk about the future. So lets dig-in.
A few days ago we found a raspberry sized board with an embedded Ryzen chipset from a Manufacturer namely DFI America, LLC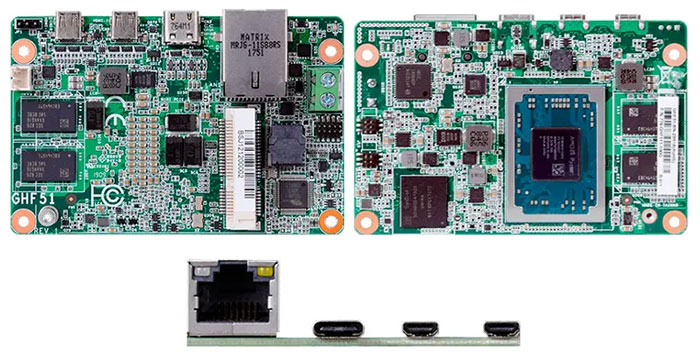 About DFI America, LLC.
"DFI America, LLC. founded in 1987, produces long-life embedded solutions, industrial motherboards, and custom products as well as Warehousing and Logistics of standard products for DFI Taiwan to customers in the Automation, Medical, Transportation, Banking and Energy industries. DFI America provides North American Sales, Application Engineering, Technical Support, Production and RMA service. More than 90% of the products sold by DFI America, LLC. are made by DFI Taiwan.
DFI Taipei, Taiwan owns DFI America and has been in business since 1981. With 37 years of in-depth experience in embedded solutions, they have an install base of over 10 million embedded boards worldwide. DFI has also provided more than 15 years of external long-term support to customers in the retail and banking industries.
In 2017, DFI joined with Qisda, a Top 100 Global Company, with more than 20 companies including BenQ Group that supplies Projectors/Monitors and DFI that supplies Industrial Computers.
DFI America's strategic direction is focused on building long-term trust with customers by delivering on commitments and meeting our partner's expectations, whether that is a specification, schedule or any other aspect of the relationship we have."
The DFI GHF51 is powered by a 12-watt AMD Ryzen Embedded R1000 series processor. The little computer should be available later this year. It is much more powerful than a Raspberry Pi, but it's also a more specialized device that's will take all attention from the hardware developer.
DFI GHF51 Specs:-
AMD Ryzen Embedded R1000 series chipset with Radeon Vega graphics with up to 3 compute units.
Support for H.265 video encoding and decoding, VP9 decoding, and support for up displays with resolutions up to 4096 x 2160 pixels at 24 Hz.
Supports 2GB to 8GB of single-channel DDR4-3200 memory,
16GB to 64GB of eMMC storage.
1 x Gigabit Ethernet
1 x USB 3.1 Gen 2 Type-C
2 x micro HDMI 1.4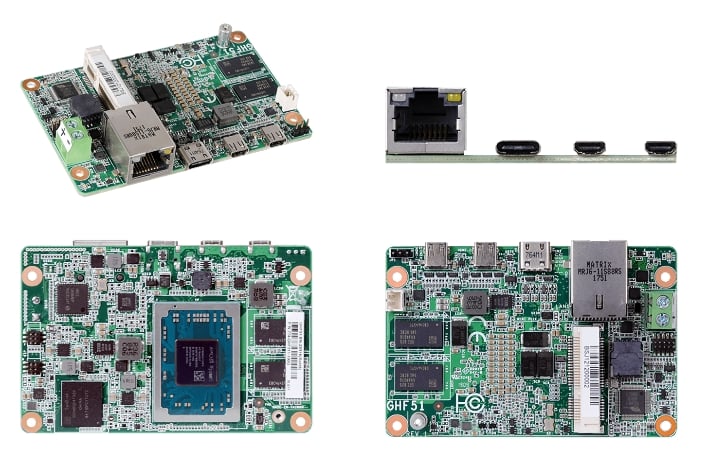 There are no hints for pricing but at least we can understand that this board won't be cheap like PI.